Q2 2021 Recap
"Surprise!" That was the gist of the Federal Reserve's message to financial markets in the second quarter of 2021, with the mid-June release of its Summary of Economic Projections hinting the Fed may begin raising interest rates next year – decidedly sooner than markets had previously assumed. Fed Chairman Jerome Powell supported this hawkish policy shift with comments suggesting inflation may be running hotter and more persistent than he had previously thought, marking a significant change in attitude from the person who had expressed strong belief that rising inflation would be largely transitory in nature.
Both stock and bond markets reacted negatively at first to the central bank's apparent policy change, but soon responded with a dismissive message back to the Fed, "Meh." Tossing aside the threat of rate hikes and soaring inflation data, longer-dated US Treasury yields fell markedly from the recent cycle highs set in March, with the 30-year bond yield dropping from 2.43% to under 1.95%[1] at the time of this writing. Riskier bonds also saw yields fall, with the spread on BBB-rated US corporate bonds dipping to multi-decade lows, offering investors lower returns for taking on credit risk. Stocks quickly rebounded in response to the action in bonds, with the S&P 500 rallying into the end of the quarter and closing at an all-time high.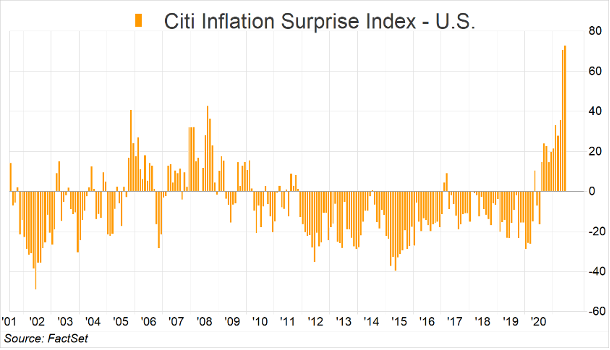 To Chairman Powell's point, inflation is indeed running hotter than many Wall Street economists had forecast, with the Consumer Price Index up 5.0% for the 12 months ending May 31st,[2] and the Citi Inflation Surprise Index at its highest point ever. The broad economy is also running at a feverish pace, with US real gross domestic product (GDP) accelerating at a 6.4% annualized rate[3] in the first quarter of 2021, and likely faster in the yet-to-be reported second quarter.
Why are bond yields falling with inflation at such high levels? And why does the stock market seem so sanguine with the Fed poised to tap on the brakes and slow the economy? First, there is the notion that inflation may well prove to be transitory, and thus not much of a concern in the long run. Evermay's view is that some components of rising inflation, such as commodity prices and supply-chain bottlenecks, may indeed prove to be relatively short-lived, while other factors, notably wage growth, could be "sticky" and thus more problematic down the road.
A growing belief, and perhaps a powerful one, is that the economy is already poised to decelerate on its own, negating the need for the Fed to be aggressive in raising rates. We note that lumber prices, the cause of much consternation in the financial media in recent months, have dropped by over 50% since peaking in May.[4] Also, the latest service-sector Purchasing Managers Index (PMI), considered a leading economic indicator, came in below expectations[5], hinting that a slowdown has already begun. Add the possibility of higher corporate and small business taxes into the mix, and the stage seems set for slower growth ahead.
Keep in mind that when we say the economy may decelerate, we are not at all suggesting it may be in decline. However, we do anticipate the rate of growth will slow from recent levels, for both inflation and overall economic activity. While lumber prices are down from recent peaks, they are still well above the average levels of the last five years. Similarly, the service sector PMI is still near the top levels seen over the past decade. At the same time, average earnings for S&P 500 companies are at all time highs and rising – and should continue to do so, at least in the near term.
While we recognize there are uncertainties to any outlook and that surprises may happen, we remain optimistic for the economy and markets for the balance of the year. As always, we encourage you to reach out to discuss your portfolio and ensure the mix of assets is appropriate and aligned with your financial goals.
[1] FactSet
[2] Bureau of Labor Statistics (BLS.gov)
[3] Bureau of Economic Analysis (BEA.gov)
[4] Nasdaq.com (LBS chart)
[5] FactSet
Blog commentary and opinions expressed herein represent a snapshot in time and are subject to change. Any discussion or information contained in this blog does not serve as the receipt of, or substitute for, personalized investment advice from Evermay.